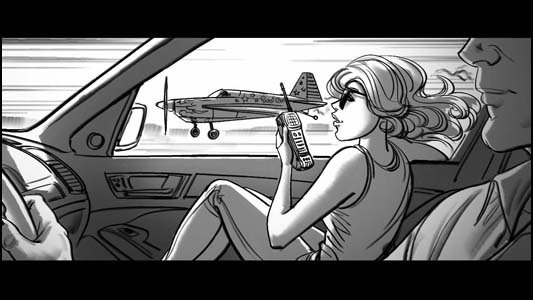 Here's a very fun spot I did a while back for Red Bull/Audi;  a little cross promotional effort to reinforce mutual branding and associations.  Basically, it's a mini-documentary of an extreme sports spectacle: a never-before-seen coordinated group of stunts with multiple flight technologies being expertly demonstrated, and beautifully shot.
This kind of event is more "captured" than executed according to shot list, so there's some amount of looseness between what's intended and final outcome- but I was able to help out by drawing up some nice presentation-style frames to help sell through the concept- and these shots were detailed very specifically by the director, who included great references for the planes, vehicles and locations.  That helps a lot in making the boards come through as intended and being the most helpful in terms of advancing the production.  I like that storyboards can be useful in a production like this, even though it's also a known thing that on the day of the actual shoot, they'll have to just roll with however things come out.  If you ask me, that's the REAL stunt!  Ha!  Here's the boards:
And here's the final spot:
Very cool!  Thanks for checking in.
Max